After a successful career with Boeing and a passion to help others to build wealth for generations to come, Curtis Banks founded Money Smart Education LLC, http://moneymanagementbook.com/ in 2017. He recently announced the republication of his book, 'The Book on Money Management – How to Build a Foundation for Wealth' https://tinyurl.com/2p99yyxf, Money Smart Transformation, Money Smart Pivot, Money Smart Mentor Forum, and Private Coaching. 
As an award-winning author, speaker, investor, and business advisor, Mr. Banks is certified as a mentor, coach, and mastermind facilitator. 
Specializing in money management strategies for home finance and businesses of all sizes, Curtis' 6-step system for wealth takes clients to both personal and business success. He teaches money smart strategies to help individuals keep more of the money they make, grow what they keep, build wealth, and achieve Financial Freedom. Curtis' focus is to help individuals reduce spending, get out of debt, and learn how to invest to build wealth. 
Curtis is the only financial educator & wealth mentor who teaches the 3 Secrets of Money Management. 
About Curtis Banks 
Curtis Banks is a veteran of the US Air Force and was honorably discharged after 4 years of service.  During his 37-year career with The Boeing Company, he held various executive positions in Information Technology and oversaw teams of 500 plus employees with a multi-million-dollar budget responsibility.
Curtis has extensive experience in real estate and stock market investing. He has managed and sold multiple businesses over the last 25 years and specializes in creating strategies for personal finances and businesses of all sizes. He focuses on creating clear financial goals and reducing stress, and he is very passionate about building generational wealth for his family and his clients.
After receiving an AA Degree in Business, he went on to achieve a BS in Computer Science with a minor in Mathematics from Wichita State University, in addition to receiving a Master's in Management Information Systems from Friends University.   
Later, he attended Creating Value Through Financial Management at Wharton Executive Education Program and attended the Executive Leadership Program, Strategic Leadership Seminar, and Leadership Development Intensive. 
Curtis is the author of "The Book on Money Management – How to Build a Foundation for Wealth" and the Founder of Money Smart Education, LLC. Curtis has personally achieved amazing results by applying the 3 Secrets of Money Management. He was inducted into his High School Hall of Fame in 2021.
Curtis enjoys spending time with his family, reading, writing, playing billiards, playing the ukulele, traveling, and sightseeing.
Media Contact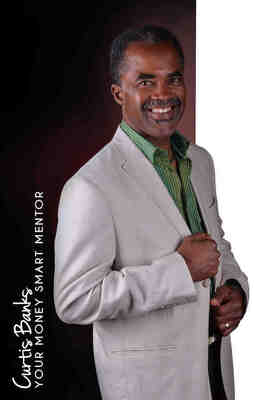 Company Name
Money Smart Education LLC
Contact Name
Curtis Banks
Phone
(425) 210-8253
Country
United States
Website
https://moneymanagementbook.com/